HiKoy® Pop-Shields 65ppi - fits dynamic hand-held type Mics with a 35 to 50mm dia. diaphragm*

PRINTED - HiKoy® Pop-Shield Mic Windshields
Minimum order just 5 pieces.
Specifications and prices shown below
Mic Windshields should be
considered a disposable
item and replaced regularly
to prevent the spread of
bacterial infection (build
up of spittle spray lodging
in the open cell foam)

With over 1200 different
Microphones on the market
make sure the standard
35 to 50mm internal core
size is suitable for your Mics
before ordering.

HiKOY® Windshields, provide the truest, purist, cleanest
sound - thanks to 'micro-pore' high density acoustic foam
technology - with smaller and more uniform holes than
other conventional foams.

HiKoy Micro-Pore Acoustic Foam
(Magnified x 5,000)
Conventional Foam
(Magnified x 5,000)
HiKoy® Pop-Shield economy Mic Windshields 65ppi. Printed both sides, price guide each.
Available in Black., White., Red, Purple, Reflex Blue, Mid Blue, Green, Orange or Yellow

Quantity >>
5
10
25
50
100

Printed both sides - Price each:

£23.00

£14.95

£11.50

£9.60

£8.95

Minimum order 5 pieces, printed both sides with same design., Subject to sight and approval artwork. Prices exclude shipping and VAT
Please ensure size is compatible with your Microphones before ordering. If in doubt, order plain un-printed first one for size testing.
Also HiKOY® Professional range. Ultimate broadcast quality - superior 85ppi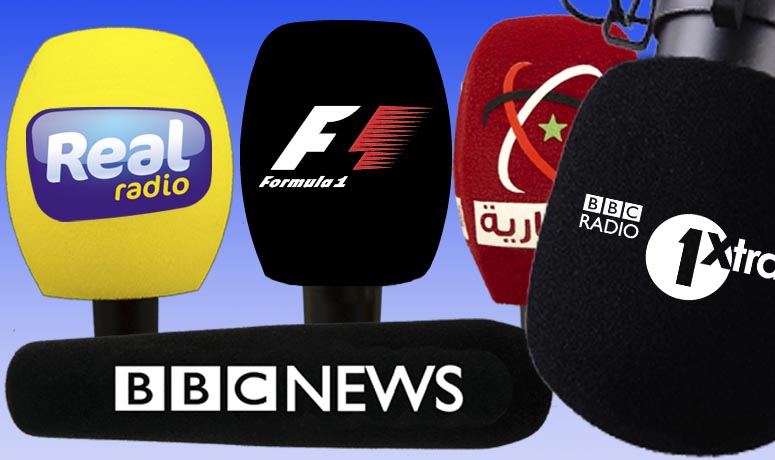 HiKOY® Professional Windshield range. Ultimate broadcast quality - 85ppi
Especially made in any colour, shape or size to suit over 1200 different Microphone makes and models.
PRICE GUIDE: Studio Mic models - Minimum order 10 pieces from around £22.00 each.
Dynamic/Reporters Mic's. (Based on Shure SM58's, Sennheiser E835 or similar etc)
Minimum order 10 - Price guide from around £22.00
Send Artwork together with Make and Model of Microphone for firm quotation.
Subject to microphone make, model, size, specification and sight of artwork.
Important Notes + Acoustic Foam Sponge Characteristics / Specification.

HiKOY® Microphone Windshields are produced in the UK from ACF open cell polyurethane foam and are fully compliant with
(EU) REACH Directive No 1907/2006. We are obliged under Article 33 of REACH to communicate information on substances in our
products if the product contains any substance meeting the criteria in Article 57 and identified in accordance with article 59(1) in a
concentration above 0,1 % weight by weight. We confirm that we do not use any of the substances listed in the candidate list
(SVHCs) of ECHA published on June 30th 2008 and updated July 16th 2019, in a concentration of above 0.1%.
1. Essential for suppressing plosives (the dreaded P-Pops) given off naturally in speech and protecting the internal electronics from
formites (spittle spray) - thus prolonging the life of the internal cardioid receptor from moisture ingress inside the microphone.
Also recommended for outside broadcast use to reduce 'wind-rush' and buffer excessive background noises.
Sound degradation is approximately -20 dB noise attenuation at 20°C - whilst keeping high frequency loss around 3~5dB reduction.
* Depending on size of logo - which should not be so large to impede sound input.
2. Microphone Windshields should be considered a disposable item and replaced regularly in the interests of Health & Hygiene to
prevent the spread of bacterial infection. If they are not replaced regularly, deposits of moisture from spittle spray will coagulate in the
open cells and can lead to the growth of bacterial fungal spores within the foam.
(If you require a longer lasting Mic advertising product - look instead at LogoMike® Microphone Flags that will last significantly longer.)

3. Acoustic Foam is not UV stable and White windshields will undergo photodegradation (yellowing) once subject to UV daylight –
please keep in the provided black polythene bag when not in use which will help prolong the life of white windshields and be prepared
to replace them very often. Microphones work though electromagnetic induction to convert the sound waves into an electrical signal.
This permanent magnetic field attracts dust, atmospheric dust partcles and formites, making white windshields the least serviceable
colour to choose - black windshields last on average 32 times longer (02/1987 test) so be aware before ordering white ones.

4. Rain/wetness will impede sound input during outside broadcast. Adjust audio input levels as necessary and replace Windshield to
protect Microphone cardioid from moisture ingress. Damp Windshields should be dried naturally at room temperature. Do not wash or
dry clean the Windshield. Please handle printed Windshields with care when putting on and taking off Microphones. Try not to hold
the printed part when handling, which will prolong product life. We reiterate that Microphone Windshields are a disposable item.


Guidance Note - SIZES

5. HiKoy® Pop-Shield Windshields fit all handheld dynamic Microphones with a 35 to 50mm dia. diaphragm ball type capsule.
Made in bulk quantities and used by amateur podcasters the world over, they represent exceptional value for money. 65ppi quality.
If in doubt about size, measure your Mics diaphragm capsule first - consult with your Sound Engineer - or read the RoHS Data
Sheet that would have been supplied with your mic.
6. HiKoy® Professional Mic Windshield. Ultimate 85ppi quality.With over 1200 Microphone models on the market and new models
coming out all the time also with some sound engineers putting different recording heads on to different shafts to suit particular
recording situations - it is the customers responsibility to make sure the size of our windshield (shown on the Proof Visual) will fit
your microphone before ordering.


Print limitations on Acoustic Foam Sponge

7. Acoustic Foam Sponge is not a solid or stable material but full of small holes and pliable (see magnified sketch below).
Printing on to such a surface is specialised and a certain amount of compromise is sometimes necessary to make designs 'work'.
We use our skill and expertise to advise you correctly but this may sometimes mean compromises in a design to achieve acceptable
results. We suggest you look at the logo's on our website to get an idea of what is possible to print on the material.
8) Because the surface of open cell acoustic foam sponge is full of small holes (see magnified sketch below) Lettering should be a
minimum 20 point type height (5mm). Small letters, fine lines, thin elements, '®' & 'TM' marks, JPG's, PNG's, graduated dots,
tints, tones, and pixels, etc that are not wide enough to bridge over the holes will not adhere to the surface of the open cell material.
Sometimes we may need to print a supporting under-panel over the surface first and then overprint with the design.
9) Artwork supplied should be Vector Artwork, such as Adobe Illustrator up to version CS5
Print colours should be 'spot colours' and named with their respective PMS (Pantone Matching System) numbers. We shall match
as close as commercially possible but it must be emphasised that designs applied to acoustic foam sponge is not like conventional
printing with ink onto paper and a colour variation -10/+10% tollerences will apply.
10) JPG type Artwork and low resolution PNG Web Graphics made up from pixels (small dots) are
not suitable to apply on to foam sponge unless we to introduce an solid area panel print to go under the design to support the pixelated artwork, as long as the area is not so large as to impede sound
input. Additional charges may apply for adapting the such artwork.
If you do supply JPG / PNG or four colour process artwork, it should be 'high resolution' 300 dots dpi
to achieve optimum print quality and not low resolution 72 RGB web graphics.

Magnified surface of open cell acoustic foam sponge - an unstable, pliable surface, full of
tiny holes that cannot accept small / fine element artwork or pixelated art without creating
an solid area under layer.
11) If you are unsure about any of these standard graphical terms, please ask your Graphic Designer to visit our website and / or download the Artwork Template from the 'Artwork' section - (see top level menu heading). All references to the word 'Microphone' throughout our website refer to traditional types of Microphones such as the Shure SM58 (pictured above) etc - and not dictaphones, voice / sound recorders, iphone / android phone recording app devices, etc